Why Uber Boat by Thames Clippers chose Goodtill by SumUp
Uber Boat by Thames Clippers transports over 4 million passengers per year to a network of piers throughout central London. Unlike any other public transport offerings in the city, passengers can enjoy a selection of refreshments from the onboard Café bar that is available across most of their fleet.
The Challenge
Uber Boat by Thames Clippers needed to choose a new POS partner to replace it's outdated and clunky cash register system. With a constantly mobile fleet, each boat required a reliable always-connected system to eliminate downtime and maintain food and drink revenue from it's Café bars. With space being at a premium, the solution also had to combine low-footprint hardware, minimal wiring and feature a user-friendly interface.
The new partner also needed to offer a software as a service (SaaS) model that included; API connectivity to their internal data warehouse, integration with third party devices and a link to their business intelligence systems.
Furthermore, to support their just-in-time food and beverage replenishment model, the river bus operator needed to send live stock levels from each boat to their central control centre.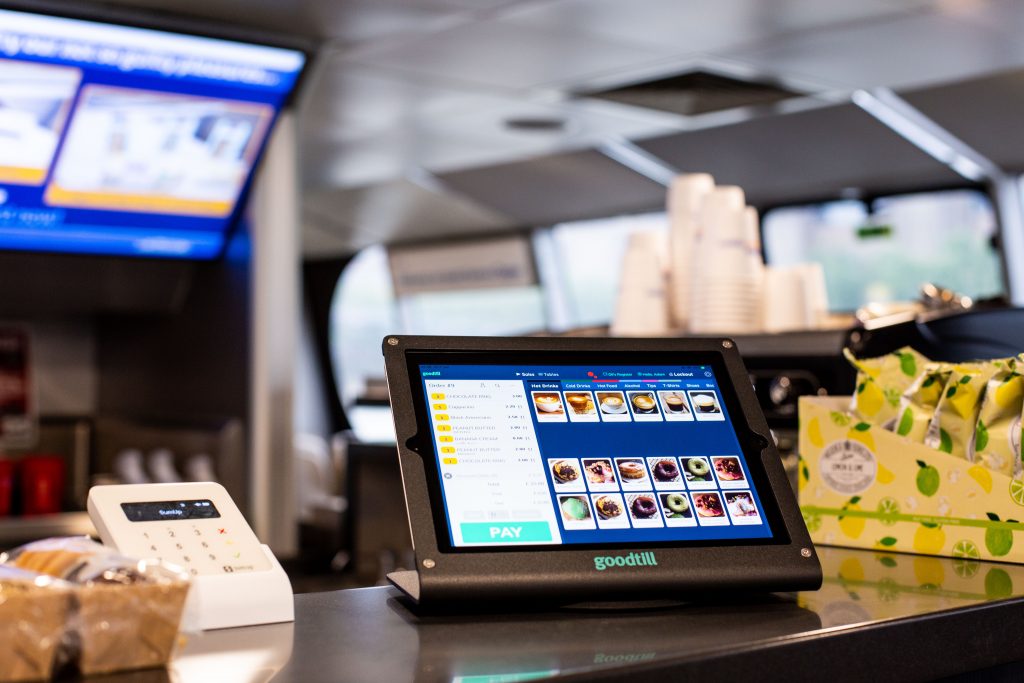 The Solution
Uber Boat by Thames Clippers chose to partner with Goodtill by SumUp. Our experience in the hospitality sector ensured that we were well placed to exceed expectations.
Just 6 weeks after agreement of the project, our teams were on-site installing space-saving 4G connected POS systems, loaded with our intuitive software, and SumUp card readers into the Café bar of the boats.
Alongside functionality, one of the key benefits of the river bus operator partnering with us was cost. Our low-cost hardware and POS software delivered the powerful SaaS solution the client required, at a price point which offered impressive savings, key operational benefits and business value compared to the low-functioning till system that was being superseded. In rare instances that a unit would need to be replaced, downtime is minimised due to the iPad hardware which can quickly be swapped for a new device – guaranteeing a continuity of food and beverage revenue that the client had not experienced before.
As they are connected through a cloud network, the POS systems on the vessels are always linked to the latest menus, regulations, allergen and nutritional data. Multiple cost centres and Goodtill by SumUp's advanced stock management system have ensured that Uber Boat by Thames Clippers' central stock site is able to order supplies and ingredients based on live and accurate data. Deliveries are made to each boat exactly when it is needed – resulting in exceptional customer satisfaction. Other services, such as the white-label loyalty application and the promotional module have created incremental revenue streams and additional customer insights.
Powerful integrations with key systems and third party software analytics, plus API data exports, have enabled Goodtill by SumUp to provide Uber Boat by Thames Clippers with custom complex logic reports and live data dashboards. These insights have given stakeholders throughout the business complete visibility and reporting capabilities over their entire fleet, staff members and individual vessels from any point along the river. This has allowed them to organise routes, schedule shifts and make contingency plans based on instant and accurate data.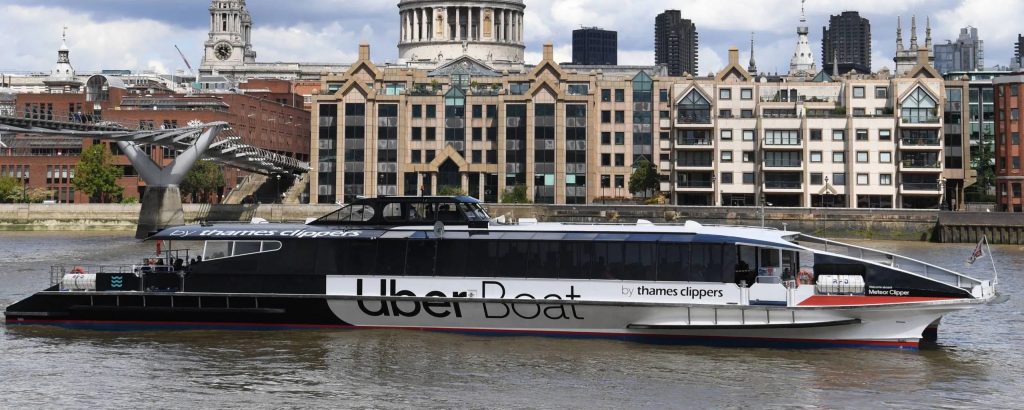 COVID-secure mobile ordering
The Goodeats mobile ordering platform has helped Uber Boat by Thames Clippers to remain COVID-secure and maintain business continuity for their onboard Café bars during the viral outbreak. The system, which encourages social distancing, has allowed customers to pay and order refreshments on their mobile phone from the comfort of their seat.
Learn more about the Goodtill POS