Becoming SumUp Point of Sale – Everything you need to know
As you know, we at Goodtill — alongside European POS provider Tiller — joined forces with SumUp in November of last year. Our three brands share the mission of providing unrivalled support for merchants and creating transformative experiences for end-users for businesses of all shapes and sizes.
Goodtill will benefit from SumUp's vast range of innovative payment solutions and we will work together to offer our existing merchants a seamless, integrated experience connecting our very own POS tools with the powerful payment products offered only by SumUp.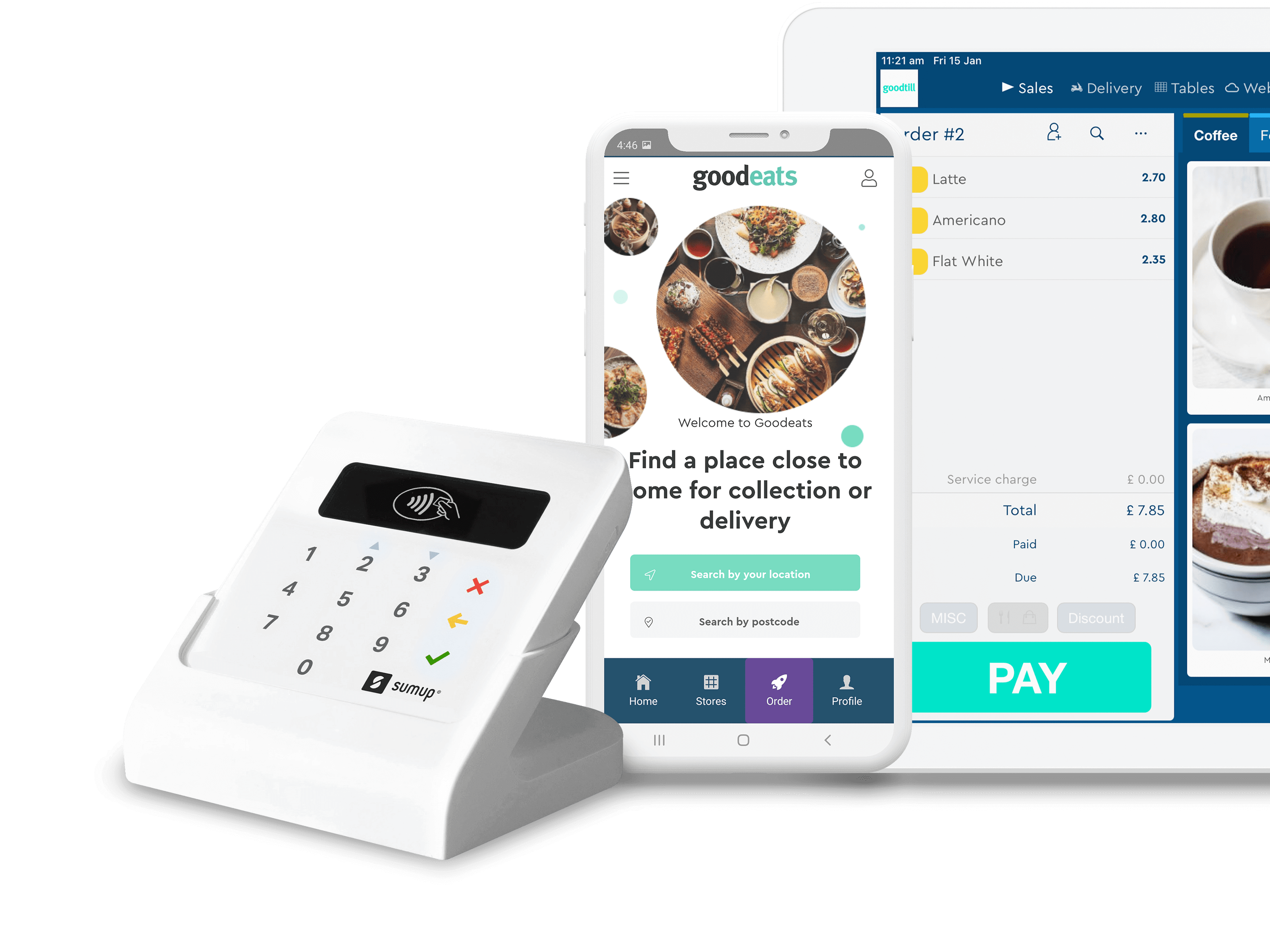 Our role to play
While we'll leave the name "Goodtill" behind, our young start-up has given businesses in the UK and Ireland a lifeline in recent times by providing essential features for the hospitality sector, including mobile table service and online ordering to stay afloat through the most testing of economic and health crises. 
Goodeats mobile ordering has stormed to the forefront of the food service industry, processing over 7.2 million delivery and collection orders for restaurants and cafes throughout the duration of the lockdowns we saw last year. We, together with SumUp and Tiller, will continue to support and grow small and large businesses alike by offering more opportunities and ever-evolving capabilities in the future through this merger.
We'll keep doing what we do best
Our incredible merchants have given us incredible feedback on many aspects of the products we have on offer, but our UK-based customer support team has always been a standout.
Our dedicated support team help our merchants through the entire purchasing process and beyond as we forego the aggressive sales pitch and incessant calls to introduce some much-needed human touch to the process. We are known to take the time to get to know our customers and their respective businesses and carve out a way for our products to help achieve the ambitious business goals our merchants are set on.
Onboarded and elevated to become SumUp Point of Sale 
SumUp Point of Sale is the brand new POS powerhouse that will continue to serve existing Goodtill and Tiller merchants around the world while offering incredible perks unique to SumUp's payment solutions.
Our Goodtill merchants will stay a priority and be among the first to know about any upcoming SumUp technology, from card readers to printers and more. 
Time for an upgrade
You may have already heard about the SumUp Air Card Reader — an incredible tool that processes payments quickly and safely, via card, contactless, mobile and more. This, combined with your Goodtill POS will allow you to offer exceptional customer service, boosted by the many seamless integrations that are and will be developed in the future. 
Our Goodtill users will get easy access to SumUp's many payment solutions that can further pump up sales, like Invoices, QR Codes and remote and online payments via Payment Links. 
You will also see our Goodtill platform change over time as we undergo rebranding to enhance the entire product experience.
What does this mean for you?
The most important thing to note is that our Goodtill merchants will continue to use our POS products as normal. From mid-October, you will begin to see a change in the look and feel of our existing tools, as we become SumUp Point of Sale. The interface of tools like the back office, website and app will become more and more intuitive and champion simplicity to reflect the new and improved SumUp POS product and brand. 
You will still have the same access to the POS, Goodeats Mobile Ordering and our array of integrations, with the added ability to log in to any SumUp product with a single credential in the future so you can enjoy a comprehensive one-platform experience. 
Support is still here
The customer support teams for Goodtill will stay put, so our merchants will get the same local and product-specific support that they're used to.
We'll be on-hand to support our UK and Ireland merchants and be accessible the same way we have always been. If you have any queries regarding any SumUp products, please get in touch with our SumUp customer support team, who'll be happy to help.
You can find answers to all your questions regarding the brand merge in our FAQs below.
FAQs
Will I have to learn how to use a new user interface?
Over the next few months, you will see the branding and design of Tiller change to SumUp POS.
Nothing about your usual experience will change when this happens. You can continue to access the app and back office using the same websites and apps, as you are already doing. 
As we improve the product and integrate with SumUp, there may be future updates on how you use SumUp Point of Sale. We will let you know when such improvements or changes to your experience come about.
What happens to all of my existing integrations? How can I get support for future integrations? 
Nothing will change to your integrations, as we will continue to use Goodtill and Tiller's existing products and technology. You can use the same processes to get support for integrations, as you have done in the past. 
What if I use a different card reader that is not from SumUp?
You can continue to use your existing card reader, as you have done in the past. 
I want to use more of SumUp's products. Where can I find more information about their products and offers? 
You can check the SumUp website or contact customer support to get information on any promotions or offers.
Who do I need to contact for support? 
You can reach out to customer service as you always do via chat on your app or your back-office for any POS-related queries. 
For any questions you may have regarding SumUp products or services, you can reach out to the SumUp customer support team, who'll be happy to help.
I have deleted my app and now I can't find Tiller/Goodtill in the app store. What should I do?
You can simply search for SumUp Point of Sale in your country. SumUp POS in the UK and Ireland are supported by Goodtill. Please see a full list of products here.
What happens to my contract with Goodtill when it becomes SumUp Point of Sale? 
Your contract remains the same, as does the amount we charge every month. 
I want to use Goodtill but do not want to use SumUp. What are my options?
Your product and customer experience will remain the same, with upcoming improvements to both. You can also have access to SumUp products to help your business grow. If you have concerns about the merger, please reach out to customer support. 
Will the Goodtill point-of-sale support team still be based in the UK?
Yes, your POS support team will remain as it is today. Please note that you will need to reach out to SumUp support regarding any SumUp products you use. 
Who is SumUp and why should I trust them? 
Founded in 2012, SumUp is a payment service provider with over 3 million merchants today. SumUp's mission is to empower small businesses around the globe, giving them access to the tools they need to be successful in doing what they love. From street food vendors to salon owners, SumUp focuses on creating technology that anyone can use, whether you're a one-person show or a team. You can trust SumUp to provide you with secure payments, reliable technology and personal support. 
What happens to my data? Is my data still safe?
Your data will continue to be stored in the same, secure way, as it is today. You can check out our privacy policy here.
Will I be required to use SumUp payment solutions going forward?
No, you can continue to use your existing payment provider. If you choose to consider using a 
SumUp Card Reader, you will benefit from a faster payment experience. Your tickets will automatically be sent to your payment terminal and printed on your existing printer. There will be more updates like these in the future to make your experience even simpler.