Going Al Fresco – A 5 Step Guide
There has been preciously little to rave about when the pandemic hit last year, from the economy taking a hit, outdoor entertainment scrapped and even seeing loved ones became a no-go. But, it wasn't all bad. The pandemic pushed restaurants to get creative with their problem-solving; juggling the social distancing dilemma, working under limited capacity and the many inventive ways implemented to stay open led to a collective move outdoors. Before you knew it, Al Fresco was simply the name of the game.
Embracing the outdoors however, is not simply a temporary solution to a global pandemic. Many restaurants, cafes and bars that have ventured outside have continued to operate both indoors and outdoors as the benefits in turnaround and demand became evident. Here's our 10 step guide to eating al fresco!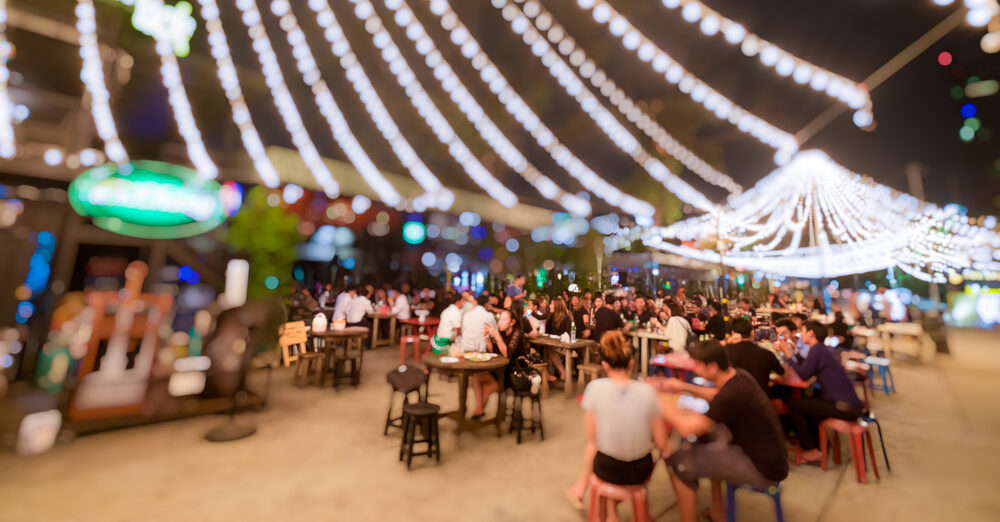 What is Al Fresco dining?
Al fresco simply encompasses outdoor dining, most popular during the warmer seasons and in holiday destinations that enjoy a temperate climate. Eating Al Fresco celebrates a casual, party-like- atmosphere. providing refined tablescapes with a focus on comfort in seating and surroundings.  
Why Go Al Fresco?
Al fresco dining increases your serving capacity and is part of a booming industry in city centres and tourist spots right here in the UK.
Offering outdoor seating can incentivize customers to stop by cafes, pubs and restaurants in the warmer seasons and function as a great alternative to a picnic and not miss out on the rarely seen brighter days in the UK. 
Step 1: Decide what Al Fresco you want
There are four main spots you can set up your Al Fresco dining experience:
Garden – a pub favourite and an aesthetic way to show off your produce at restaurants – where the magic starts per se, stacked with benches, lights and music

Sidewalk – a city centre landmark for all hospitality establishments and goes easy on the wallet – a couple of tables and chairs (and candles for the evening) and voila!

Patio – a holiday vibe popular with tourists but perfectly befitting any hospitality offering, offering a cosier seating area equipped with sofas, fire pits and more for the best evening hangout.

Rooftop – for the few lucky with an empty and accessible rooftop for the perfect view of your skyline and unlimited decor options
Step 2: Get your equipment 
Needless to say, you'll need the obvious extra tables, chairs and place settings you have indoors. These can be a bit more minimalistic to suit the outdoors environment but you'll want the branding to trickle outside – it may very well act as an incentive to move potential onlookers into your establishment; "Looks good outside? Probably looks even better inside". 
Here is some additional equipment you may want to consider:
Electric food warmers

External radiators

Countertop griddles

Induction buffet tables
Step 3: Set the mood
What is Al Fresco dining without the necessary ambience? The right lighting goes a long way in setting the vibe and getting your branding just right. Consider candles, lanterns, hanging lights and torches as a standard with a few extras you can consider:
Water fountain

Reflecting pool

Flowers
Step 4: Offer Mobile Ordering
While increasing capacity is great, it also means a lot of extra work. The increased workload will inevitably affect your staff, from your chefs in the kitchen to the servers at the front-end. It's important to maintain your service standards and be ready for the spike in demand, maintain reasonable waiting times and up your labour force if necessary. But the easiest and most affordable way to ease the burden on your staff is by introducing a mobile ordering platform to your operations.
With most of the order fulfilment process hauled online and automated, your staff can focus on whipping up the food and drinks and simply deliver. Platforms like Goodeats allow you to select a dedicated pick-up spot and support deliveries, collections and drop-offs and even pivot to accept table orders. So whether you're opening up your rooftop, patio or garden, your mobile ordering solution will fit around your blueprint. 
Step 5: Implement hospitality-specific capabilities with a POS 
A dedicated hospitality Point of Sale system will go a long way in providing bespoke capabilities to make outdoor serving a breeze.
Whether it's the ability to draw up your very own floor plan to navigate your Al Fresco setup, mirror your seating layout and make it easier for staff to serve customers in a larger space or the pros of easy bill splitting, tab management and more.
Not to mention, POS systems are usually cloud-based and therefore tablet operated and if you're hauling part of your business outdoors, you need your staff to stay mobile to comfortably serve your customers. No pen and paper, nor a chunky till behind the counter – smart ordering is the only way to go.